• For openings of 4 metres and 8 metres respectively.
• Integrated photoelectric cells and command selectors.
• Optional flashing lamp.
• Optional illuminated lighting strip can be fed down the entire length.
• Control panel is placed away from mechanical parts giving easy intervention whatever the circumstances.
• Tubular bar ideal for reducing the sail effect.
• Adjustments include movement and approach speeds
• Minimum opening time of 4-5 seconds
• Connections available for pre-opening and pre-closing flashing light
• Amperometric obstacle detection system in opening and closing
• Available in Zinc Plated coated steel and Stainless steel finishes.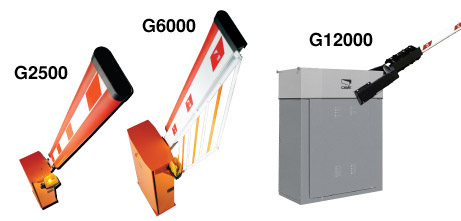 Also available, the CAME 2.5m, 6m and 12m parking barriers (G2500, G6000 & G12000 models) feature 24V DC / 300W SELF-LOCKING electromechanical gearmotors (protection grade IP54), built in control panel and an adjustable balancing system. The galvanised sheet metal casing is available with RAL 2004 polyester enamel finish or brushed stainless steel.