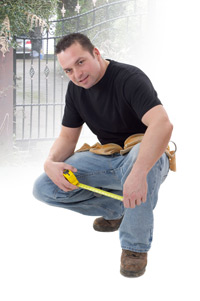 Over the past decade Enterprise Gates & Railings has become known as one of Britain's largest and most highly respected manufacturers and installers of automated entrance systems.
A privately owned company, we are proud of of our outstanding reputation for the highest quality craftsmanship and service.
We look forward to helping you decide on the best and most beautiful gateway for your property
Highest Quality Materials, Craftsmanship and Service
With our experience we are able to offer our customers a vast array of manual and electric gates, security fencing and internal / external architectural metal work, accompanied by a superb range of automated and security products. Backed by excellent technical and fitting services, all CAME approved.
Extending these customer services, we also offer an individual design service for customers requiring that personal touch.
All steel work is advised to be hot-dip galvanized, offered with options of colour code top-coat, vinyl paint work for primer and travelling purposes. Our range of timber gates are manufactured from the finest wood available from managed forests. All of our automation systems come with a full 12 month warranty with the added option to subscribe to our annual customer care service contract which brings with it many benefits.
Due to the continued development of Enterprise Gates & Railings, new personnel are on board with the development of the security fencing manufacture and installation. Fencing development now includes wrought iron, palasade, paladin, barbed wire and razor wire.
Enterprise Gates
& Railings Ltd,
Unit 2
Herbert Road
Stoke-on-Trent
ST3 4QR